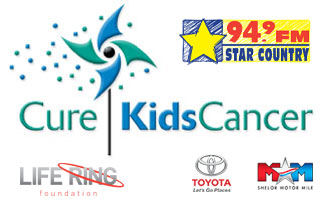 CURE KIDS CANCER RADIOTHON 2023
THE CURE KIDS CANCER RADIOTHON HAS RAISED OVER $1 MILLION TO HELP LOCAL KIDS BATTLING CANCER. THANKS TO YOU, WE'VE BEEN ABLE TO PROVIDE COMFORT AND     TREATMENT TO HUNDREDS OF AREA KIDS. 
THE RADIOTHON IS THE ONE DAY OUT OF THE YEAR THAT WE ASK YOU TO GIVE AS MUCH AS YOU CAN. EVERY PENNY COUNTS AND THE MONEY RAISED BENEFITS KIDS IN OUR BACKYARD WHO ARE FIGHTING CANCER. THIS YEAR'S RADIOTHON IS FRIDAY, AUGUST 11 FROM 6AM TO 6PM. 
WE'VE GOT A LOT OF MONEY TO RAISE TO HELP A LOT OF GREAT KIDS. THE CURE KIDS CANCER RADIOTHON…AUGUST 11…WITH LIFE RING FOUNDATION, COMMUNITY FOUNDATION OF SOUTHWSET VA, SHELOR TOYOTA, KEGLY ELECTRIC AND 94.9 STAR COUNTRY!