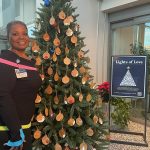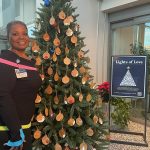 A Carilion Clinic program offers out of town family of patients a place to stay. The Lights of Love was launched in 2013. It helps pay for a hotel stay when they family member is in the hospital. Initially the health system's employees supported the program with donations. Shanna (Shaw-na) Flowers, Carilion's Director of Volunteer Services, says this year they are reaching out to the public because the program is expanding to the New River Valley and Franklin county. She says a minimum donation of $10 has a double meaning.
That donation also helps ease the stress of the patient's out of town family members by providing a place to stay. You can find a link to the Lights of Love program on our website at WFIRNews.com
https://www.carilionfoundation.org/GVS
The post
Lights of Love provides refuge for family of patients
first appeared on
News/Talk 960-AM & FM-107.3 WFIR
.
...
Continue Reading