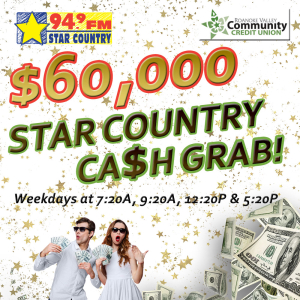 WIN YOUR SHARE OF $60,000 CASH with the all new $60,000 STAR COUNTRY CASH GRAB brought to by Roanoke Valley Community Credit Union!!!
  
WE'RE GIVING YOU THE CHANCE TO WIN $1,000 TWICE EVERY WEEKDAY!! 
4 times every weekday- 7:20A, 9:20A, 12:20P & 5:20P- Star Country will call out a KEYWORD.  When you hear that keyword, head RIGHT HERE to the Star Country website and enter that keyword!  The next day, have your phone handy! You might get the call letting you know that you've won $1,000!  PLUS, the more keywords you enter the more chances you have to win the $10,000 GRAND PRIZE!! EVERYONE who enters gets qualified for the $10,000 grand prize!!

Click here to read the official contest rules:  2022 Spring Contest Rules STAR
*Note: This is a national contest.