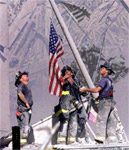 Some of WFIR's staff worked 35 straight hours on September 11 and 12, 2001.
For the 20th anniversary of the 9/11 attack, Mountain View Memorial Park in Boones Mill will sound Taps, tomorrow morning at 10:50. With more, WFIR intern reporter Caroline Moore.
The post Taps for 9/11 victims in Boones Mill tomorrow morning first appeared on News/Talk 960-AM & FM-107.3 WFIR.