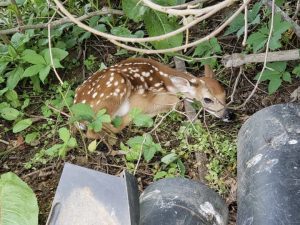 Photo: RPD
FROM ROANOKE POLICE: RPD Animal Wardens have received several calls for service regarding "abandoned" fawns. We want to remind you that it's normal for a fawn to be alone during the day. Does will leave their fawns in safe spots while they find food. If you find a fawn, leave it alone. Their mother is usually in the area and should return at dusk. If you notice a fawn that has been in the same spot for a day or two and appears to be in distress, you can call the Department of Wildlife Resources at 1-855-571-9003.
The RPD Animal Wardens took these pictures of fawns that were found in the City of Roanoke. Trust us, we know they're cute. But they're better off left alone!
The post An "abandoned" fawn you might see is probably just fine first appeared on News/Talk 960-AM & FM-107.3 WFIR.