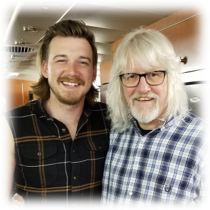 Middays
David Lee never sang in a rock band, but spent a lot of time on big stages and tour buses with musicians, and he has had the pleasure of working with a lot of them over his career spanning 40+ years in radio!
His love of radio began in Richmond, 1975. In 1979, he moved to Roanoke to be part of the original, history making "K92 K-Krew" which went on-air as the #1 station on January 1, 1980. Since then, he's been on air in Daytona Beach, Milwaukee, and Richmond before returning to Roanoke.
David Lee and his wife, Melissa Morgan (who's a DJ herself!) are avid animal lovers with particular fondness for senior dogs. Both have worked to raise funds for various pet rescue organizations.
David Lee is a Certified Professional Photographer and is a member of the Virginia Professional Photographers Association, the Professional Photographers of America and the American Society of Photographers. He earned his degree of Photographic Craftsmen from the PPA and is the owner of "David Lee Michaels Photography". David Lee has won multiple awards for outstanding service to the photography industry, along with recognition for his work in competition and album design.
David Lee lives, laughs, and loves along with his wife, 3 dogs, 3 cats, and 3 Nikons. Passionate about his family, pets, and community, David Lee brings that same excitement into his work, so you can have that Rockstar experience!