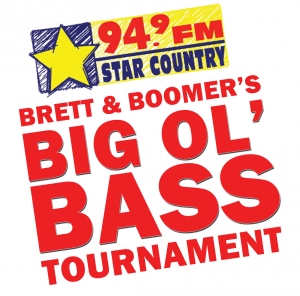 brought to you by Cundiff Heating & Air
The 3rd Annual Brett & Boomer's Big Ol' Bass Tournament  brought to you by Cundiff Heating & Air and Conrad Brothers Marine
SATURDAY, SEPTEMBER 25, 2021 at Claytor Lake State Park
CLICK HERE FOR 2021 TOURNAMENT BOAT #s:
FINAL Flight List
This list will be updated as boaters register this week.
Registration cut-off will be Friday, 9/24 at 12N.
The 2021 tournament will take place on  Saturday, September 25, 2021 at Claytor Lake State Park located at 6620 Ben H. Bolen Dr, Dublin, VA 24084. NOTE: THERE IS A COST OF $7 TO PARK AT THE STATE PARK.  $9 IF YOU ARE FROM OUT-OF-STATE. 
Thank you to our  sponsors:

Cundiff Heating & Air
Conrad Brothers Marine
Domino's NRV
COMBINED WEIGHT TOTAL OF 5 FISH
(Including Large Mouth Bass, Small Mouth Bass, and Spotted Bass)
1st place: $10,000 
2nd place: $2,500
3rd place:  $1,000
4th place:  $500
5th place:  $400
6th place:  $300
7th place:  $250
8th place:  $200
9th place:  $175
10th place:  $150
Biggest Large Mouth: $500
Biggest Small Mouth: $500
**Lake fishing only.  No fishing allowed above the first set of falls**
Please complete all info on the registration page.  Liability forms will be signed at the tournament.
Registration ONLINE ONLY in 2021.  For questions and inquiries, email  basstournament@949starcountry.com
or send to
94.9 Star Country
Attn: Bass Tournament
3934 Electric Road
Roanoke, VA 24018
*NOTE:  ILLEGIBLE OR UNREADABLE FORMS WILL NOT BE ACCEPTED.  PLEASE DO NOT TAKE A PHOTO OF COMPLETED FORMS AND SEND IN.  YOU MUST FILL OUT THE FORMS CLEARLY!  YOU MAY BE ASKED TO RE-SUBMIT . 
***MEETING INFORMATION WILL BE RELEASED CLOSER TO TOURNAMENT DATE***
Questions?  Email us at basstournament@949starcountry.com
Download the official tournament rules here: 2021 Tournament Rules
Hard copies of all documents can be sent at your request.  To request copies of the registration form, liability release and tournament rules, please contact us at (540) 772-0102 or basstournament@949starcountry.com